Colombia is quickly becoming the new technological epicenter of Latin America with the inauguration of our state-of-the-art Data Center in Bogota's Free Trade Zone. This impressive 5,000 m2 building, with two computer rooms spanning over 2,000 m2, clearly reflects KIO's continued investment in strengthening our infrastructure and technology capabilities to keep our customers one step ahead.
The project also includes a site destined to construct a second Data Center with similar characteristics, which signifies a potential scalable capacity of up to 12 MW. This Data Center has a high availability design and construction, certified TIER III by the Uptime Institute.
"Colombia is the perfect combination of strategic factors. Its growing startup community, investment in technology, and STEM education, coupled with favorable government policies, create an ecosystem conducive to innovation. Its strategic geographic location, developing digital infrastructure, and highly skilled workforce, along with digital transformation in sectors such as finance, healthcare, and agriculture, are driving the country's technological advancement. That's why we couldn't miss out," said Alejandro Estua, Chief Revenue Officer of KIO Data Centers, during the opening ceremony.
With over 20 years of experience in seamless operations, at KIO, we provide an environment that reflects our values, such as agility, flexibility, and commitment, that our customers can rely on to securely host their data and technology infrastructure.
With KIO BOG|1, Colombia becomes the sixth country where KIO operates, fifth in the Americas, and first in South America. It is in a highly interconnected area, with more than 14 telecommunications operators, competitive energy rates, and tax benefits, enhancing our customers' investment savings.
The human factor plays a key role in understanding the needs and challenges we face in each country. For this reason, the KIO platform continues its expansion, always hand in hand with local resources. In this case, the team will be under the local leadership of the Country Manager, Luis Fernando Rumbos.
"Our purpose as a company is to improve lives through technology, and our mission is to connect organizations with the solutions they need, support our customers in understanding and adopting trends, and assist them in building an efficient business model without technological waste. We are confident that, working together, we will find the necessary roadmap to digital transformation," he added.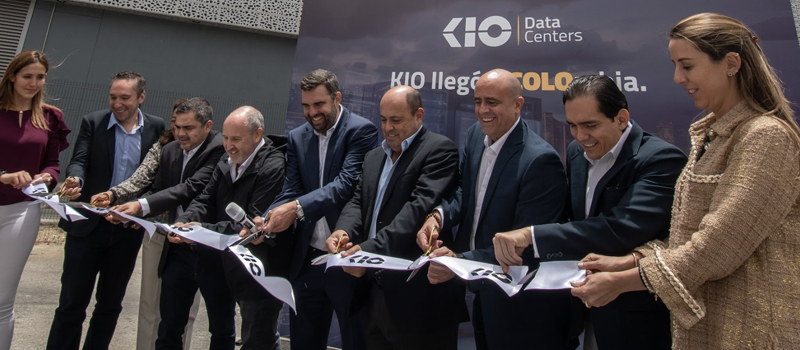 What makes us stand out?
As an agnostic company, we provide access to the entire market without exception. We embrace private, government, and vertical industries, creating a rich ecosystem and reducing costs for our clients by connecting them with other tenants. We offer flexible and fast cross-connections spanning telecommunications and multiple carriers to increase efficiency and reduce costs.
In Bogota, we are ready to offer space and power availability immediately to our clients, with vacant areas for expansion and rapid growth within the same data center. This provides peace of mind and reassurance to customers familiar with our quality standards and operations in various countries.
This Data Center also features Continuous Cooling design and technology, which keeps the air conditioning always on, even during power outages. Its configuration includes a battery backup that guarantees the load and operation of critical systems and a load distributed in three cells to guarantee temperature stability and performance, avoiding blackouts due to heat. In addition, with two telecommunications rooms, we guarantee dual routing and redundancy.
One Step Forward:
Another aspect emphasized by our Chief Revenue Officer during the inauguration was sustainability. We strive to be energy-efficient and environmentally friendly. We have renewable energy agreements, and today more than 95% of the energy we consume is renewable. We are proud to pass these benefits on to our customers. We are environmentally friendly and optimize costs for our customers and ourselves".
Digital Frontiers: The Future of Data Centers and Business in South America.
In this exciting chapter of our history, we want to share a special part of this journey. As part of the inauguration of KIO BOG|1, a transcendental event called "Digital Frontiers: The Future of Data Centers and Business in South America" was held. At this event, different KIO executives shared their perspectives on how this new technological infrastructure influences the region and how strategic investments are shaping the technological future of South America.
KIO is a leading company in the Latin American Data Center Infrastructure and Information Technology market. Over 15 KIO Data Center Campuses are distributed across Mexico, Central America, the Caribbean, and Europe. We assist approximately 1,000 corporate clients in adopting technologies and solutions that enable them to offer better services and products. Over 1,900 dedicated employees work daily to make our purpose a reality and remain our customers' best ally.
With KIO, you have the peace of mind of hosting your technological infrastructure and data in an always-on and secure environment. Our focus on physical and technological security guarantees the best experience. We operate in an "always on" mode, so our customers don't have to worry about us. If you want to discover how we can help you evolve how you do business, facilitate the adoption of new technologies, and reach your full potential, don't hesitate to contact us.