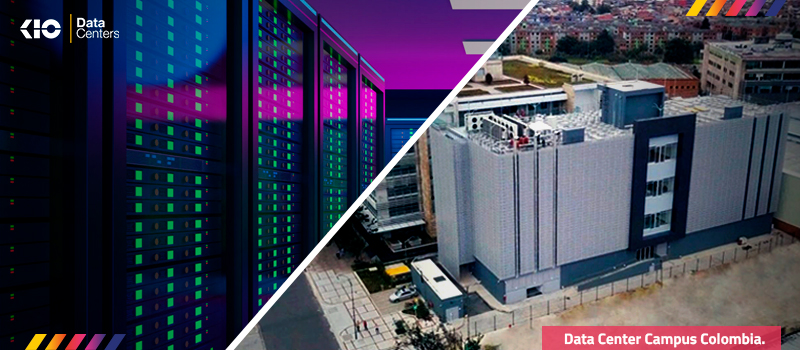 March, 2023. KIO, I Squared Capital's Data Center and Digital Infrastructure platform for Latin America, announced today the signing of an agreement for the acquisition of a new Data Center Campus in Colombia. With the new KIO BOG1, located in Bogota, Colombia becomes KIO's sixth country of operations, fifth in the Americas and first in South America.
The facility has 5,000 sqm of construction and two data halls with more than 2,000 sqm of white space and a power capacity of 6 MW for colocation services. The project has additional land to build a second data center with similar characteristics, resulting in a potential capacity of up to 12 MW for the campus. This data center campus has a high availability design and construction, certified by the Uptime Institute at TIER III level.
Colombia is a very attractive market due to its size, scale and substantial growth in data and IT consumption which resulted in a shortfall of data center capacity and strong expected absorption rates going forward. Bogota, the capital city of Colombia, is its most populous city with more than nine million inhabitants and is the main industrial and financial hub in the country. The new facility, KIO BOG1, is located in one of most interconnected industrial complexes in the country with more than 14 network operators. The fully permitted facility provides KIO's customers with unmatched time to market access in a supply constrained market while the site's additional capacity and network connectivity offers visibility and access to future growth.
"For KIO it is highly strategic to continue expanding in LATAM and we have chosen Colombia because we are convinced of the economic potential and the growing demand for our services in this great country. We are working very well with our investment partners, I Squared Capital, in the execution of our expansion plans," said Santiago Suinaga, KIO Data Centers CEO.
About KIO
KIO is a Data Center & Digital Infrastructure platform with more than 20 years of experience in Colocation and IT services. KIO has 13 core data centers with 26 Megawatts of IT power capacity distributed in Mexico, Colombia, Panama, Guatemala, The Dominican Republic, and Spain.
The more than a thousand clients that have trusted KIO are part of a wide digital ecosystem with diverse sectors and industries including Hyperscale, Clouds & IT, Telecom, Banking & Finance, Media & Content, Public Sector, Retail, among others. KIO enhances interconnection and data exchange within the hosted ecosystem inside their multiple data centers offering numerous advantages on system performance, scalability and cost efficiency in a high availability environment designed to operate mission critical systems.
About I Squared Capital
I Squared Capital is an independent global infrastructure manager with over $36 billion in assets under management focused on investing in North America, Europe, Asia, and Latin America. Headquartered in Miami, the firm has more than 215 professionals across its offices in Miami, Hong Kong, London, New Delhi, Singapore, Taipei, and Sydney. I Squared Capital has invested in a diverse portfolio of 72 companies in 59 countries across the utilities, energy, digital infrastructure, transport, environmental infrastructure, and social infrastructure sectors, with over 27,000 employees and providing essential services to millions of people around the world.